Hey fam! I'm Craig McCloskey, a Master Certified Health Coach and creator of The Ultimate Wellness Academy™.
I designed this program to bridge a gap. I see how many people are suffering, not just with their nutrition and movement goals, but with their purpose, emotions surrounding food, stress levels, and many other areas of health conventional healthcare lacks.
I strongly believe that in order to have true health, we must address every aspect of it - not just spot treat it with cookie cutter meal plans and equally as sketchy workout guides.
This program gets deep - there is nothing surface level about it. But along with my girlfriend, Bethany (and dog Koda!), we walk with you together to achieve your goals.
I can't wait for you to join our community and experience the 10-week difference!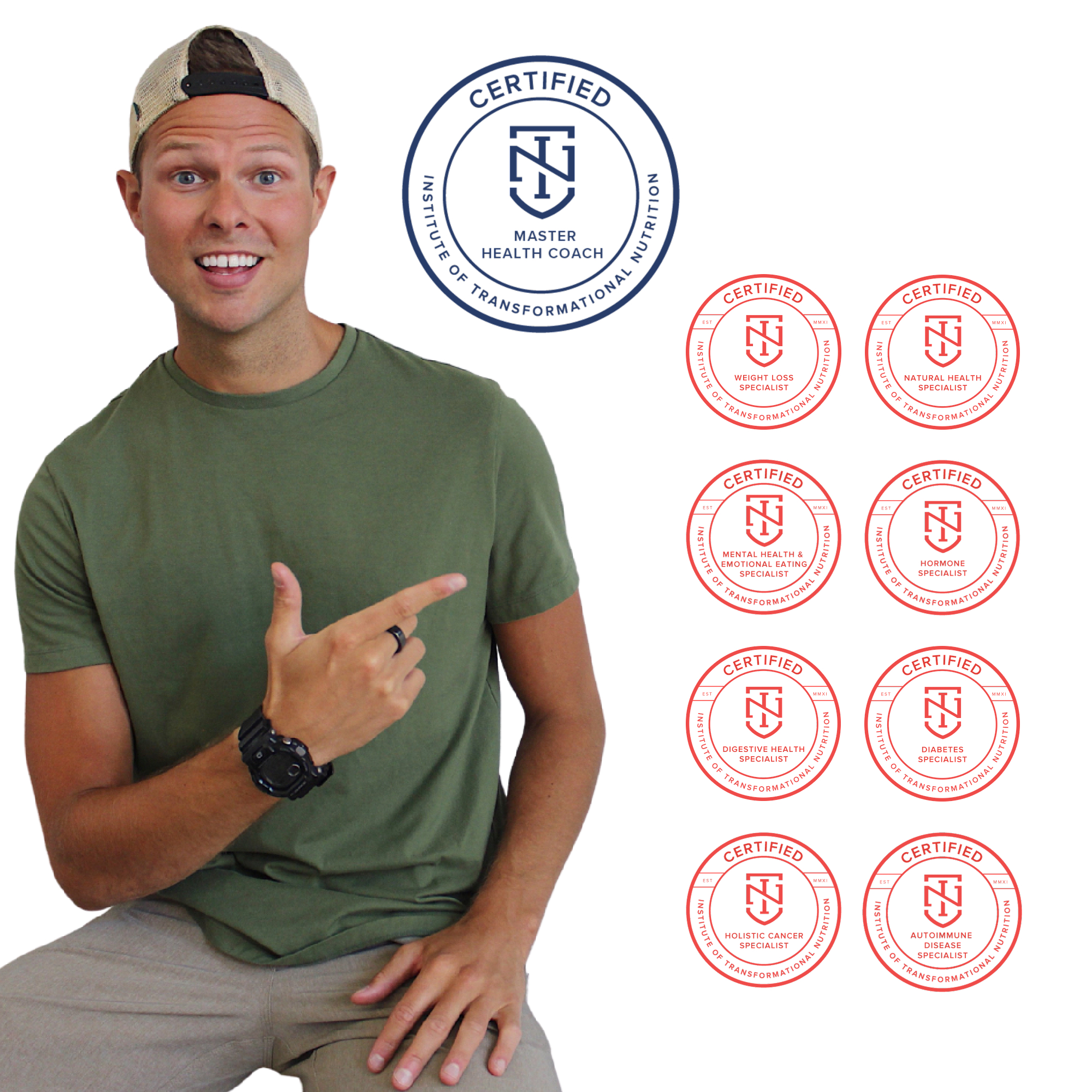 ACHIEVE YOUR BIGGEST HEALTH GOALS
WITH CRAIG McCLOSKEY


There is no health goal too big inside this course. Most programs give out cookie-cutter meal plans with equally as sketchy workouts. This is the old way of doing things...


Inside our programming, we have dietitian formulated meal plans customized to fit your unique lifestyle. Along with a complete 60-day CPT formulated workout program. It is both college athlete and couch potato approved!


But what really sets our program apart is that we not only give you the "how", but we also give you the "why".


What do I mean? Most experts just give their clients meal plans and a workout program created to fit their unique lives. That's great! But we wanted to take it many steps further by educating you while you progress through the program! Not only will you be given cutting-edge nutrition advice, but you will also learn why we are asking you to make those changes with fun, weekly lessons.
On top of all of that, you will meet with Craig McCloskey, MCHC, every week in both a 1:1 setting and group coaching call Zoom chat to ensure you stay on track with your program and achieve the best results possible.


We're proud to say that we uphold a 100% success rate with every client who enrolls in our academy, while many of them see mind-blowing results.
"
I HAVE MORE ENERGY AND HAVE EVEN REVERSED ALL MY PCOS SYMPTOMS!
"
Megan-Elise F.
"Taking part in The Ultimate Wellness Academy™ with Craig McCloskey has been the best decision for my health! He has done an absolutely amazing job creating a program that sets you up for success! The quality of this program is evident. Craig is passionate about looking at each person as an individual and values them deeply. He specializes in teaching you how to establish healthy habits and goals. What I personally love most are his stories. He is a remarkable storyteller! This approach to teaching has helped me understand the material better. I have learned to have a healthy relationship with food! This challenge can benefit everyone and I stand by his statement that 'it will be your last program you will ever have to go through!' I honestly feel better than I ever have.
Many people ask me why I am glowing and why I am so much happier! I have more energy and have even reversed all my PCOS symptoms! I am thriving and I fully attribute it to The Ultimate Wellness Academy™! It will change you from the inside out. If you are like me, you will finally start truly living your life! THANK YOU, CRAIG, FOR HELPING ME CREATE A HIGH-QUALITY LIFE!"
SEE WHAT'S POSSIBLE...
Physical changes are just the tip of the iceberg - wait until you experience the mental transformations!
TAKE A SNEAK PEEK INSIDE...
This 60-day workout program was designed by our PTAG Certified Personal Trainer, Bethany Paszkowski, to pair perfectly with your 10-week course.
This is a three phase training program that focuses on well-rounded functional movement to build muscle, obliterate fat, and create long lasting energy.
Phase 1, Functional Training - designed to help you master the basics, learn the movements with safe form, and go at your own pace.
Phase 2, Hypertrophy Training - we kick it up a notch in this part of the program. This is where you begin to grow your muscles and really accelerate your results by obliterating fat.
Phase 3, Strength Training - shifting gears in the last few weeks, we focus more on lifting heavier weight and lowering the reps to really help you build strength and gain the best results possible.
It is couch potato tested, and college athlete approved!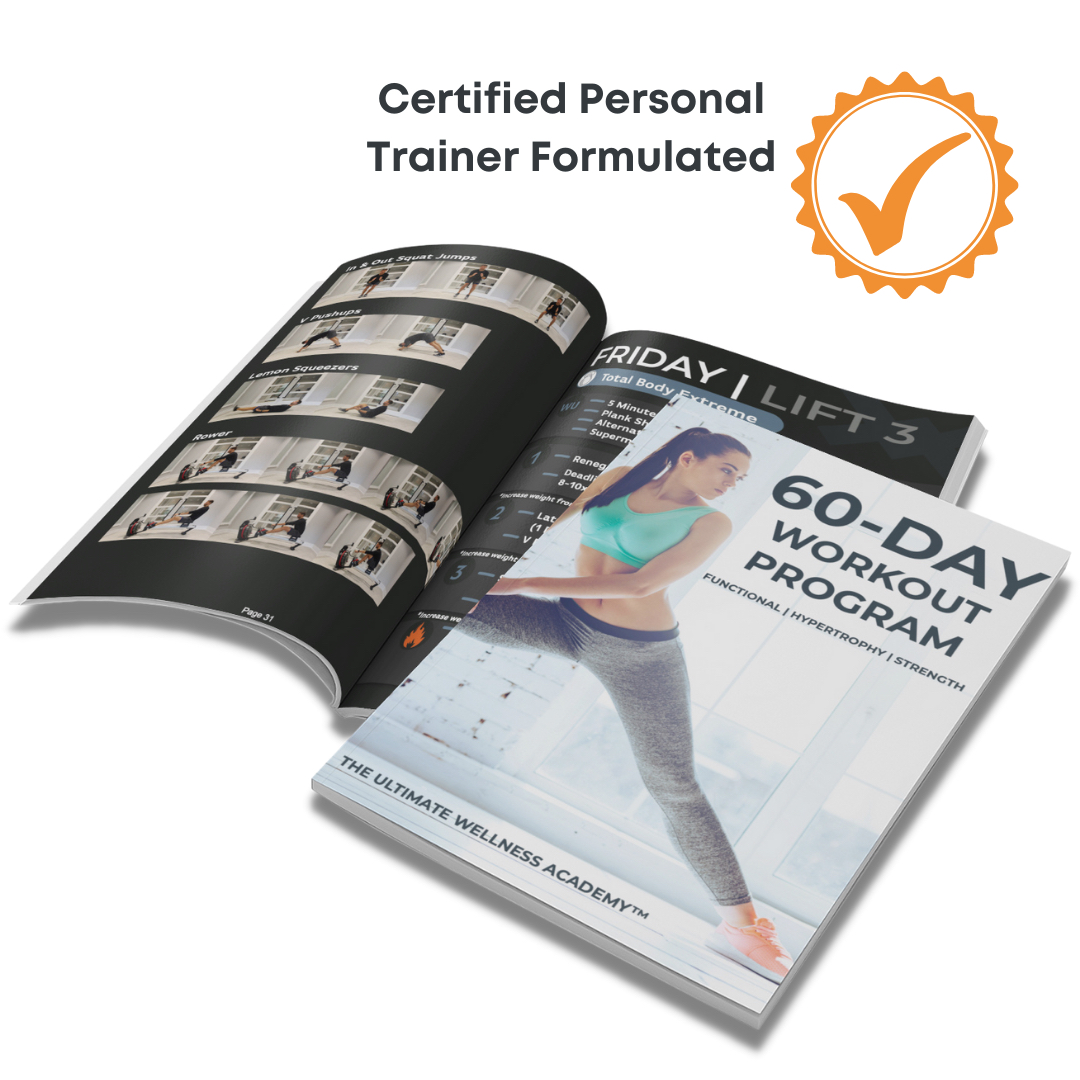 ENTER THE ULTIMATE WELLNESS ACADEMY™
AND LET OUT THE ATHLETE INSIDE OF YOU
Dietitian Formulated Meal Plan & Recipe Book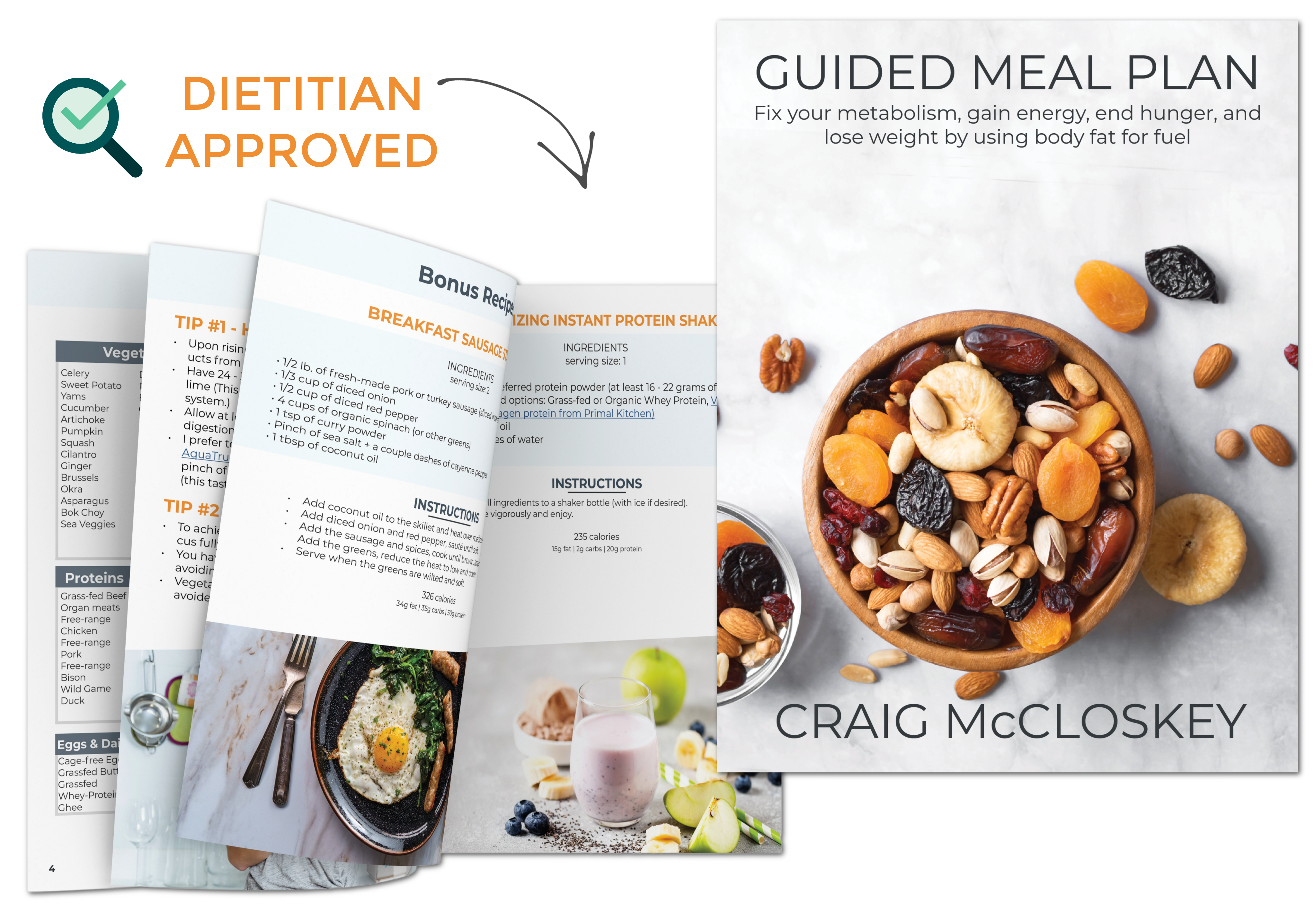 EXCLUSIVE ACCESS TO A DIETITIAN FORMULATED GUIDED MEAL PLAN
Inside this downloadable pdf you will receive a grocery list, bonus recipes, a sample weekly meal plan designed to obliterate fat, a food portion size guide, and 18 of our best food tips to achieve optimal results.
HEALTHY TOGETHER RECIPE BOOK
This dietitian formulated recipe book includes 40+ delicious recipes that are specifically created to be both nourishing and simple to make!
We believe that any recipe can be made healthy as long as you use high-quality ingredients - and that was the basis of this recipe book. If you're like us, you still want to enjoy the same foods you grew up on, but improve your health while eating them, not hurt it.
We kept that in mind when formulating these recipes. We thought to ourselves, "how can we make pasta dishes, ice cream, and even pizza healthy?"
And what we discovered in the process will absolutely shock your tastebuds!
We followed just a few simple nutrition guidelines when it came to creating this guide for you:
Absolutely NO toxic vegetable oils
Zero added sugars
Nothing but whole, nutrient dense foods your body can use to make sustainable energy
Each meal must be quick to make for an entire family
We know you are going to love making these recipes during (and after) your program. We make them every day ourselves!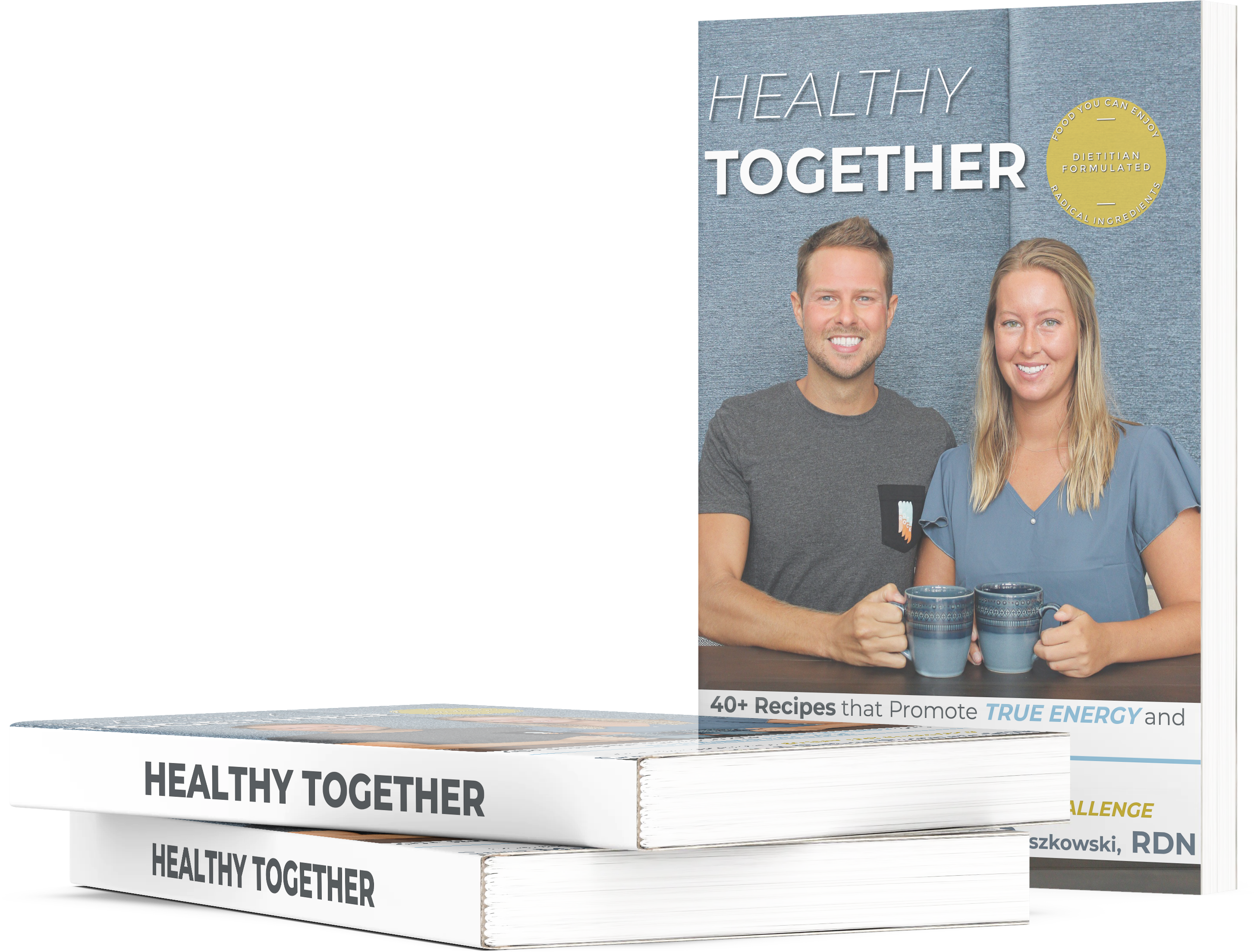 DO YOU FOLLOW A PARTICULAR DIET LIFESTYLE?
WE'VE GOT YOU COVERED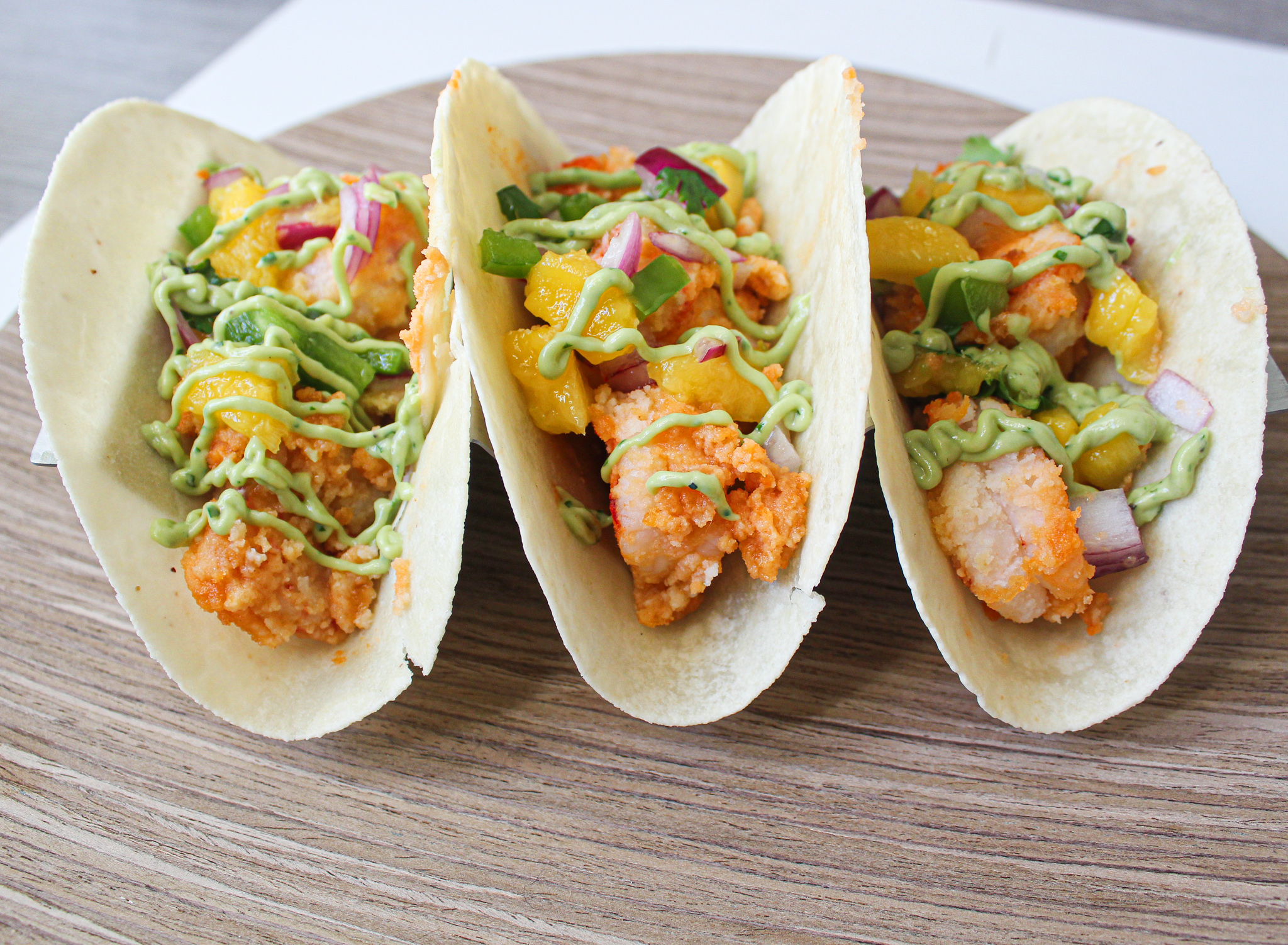 Coconut Shrimp Tacos with Mango Salsa and Avocado Citrus Dressing
A nice twist to your normal Taco Tuesday! This sweet, yet savory combination is nice for kids, adults, and everyone in between. You'll love these shrimp tacos so much you might actually end up becoming someone who loves to cook! Pair with a glass of white wine and a side of your choosing.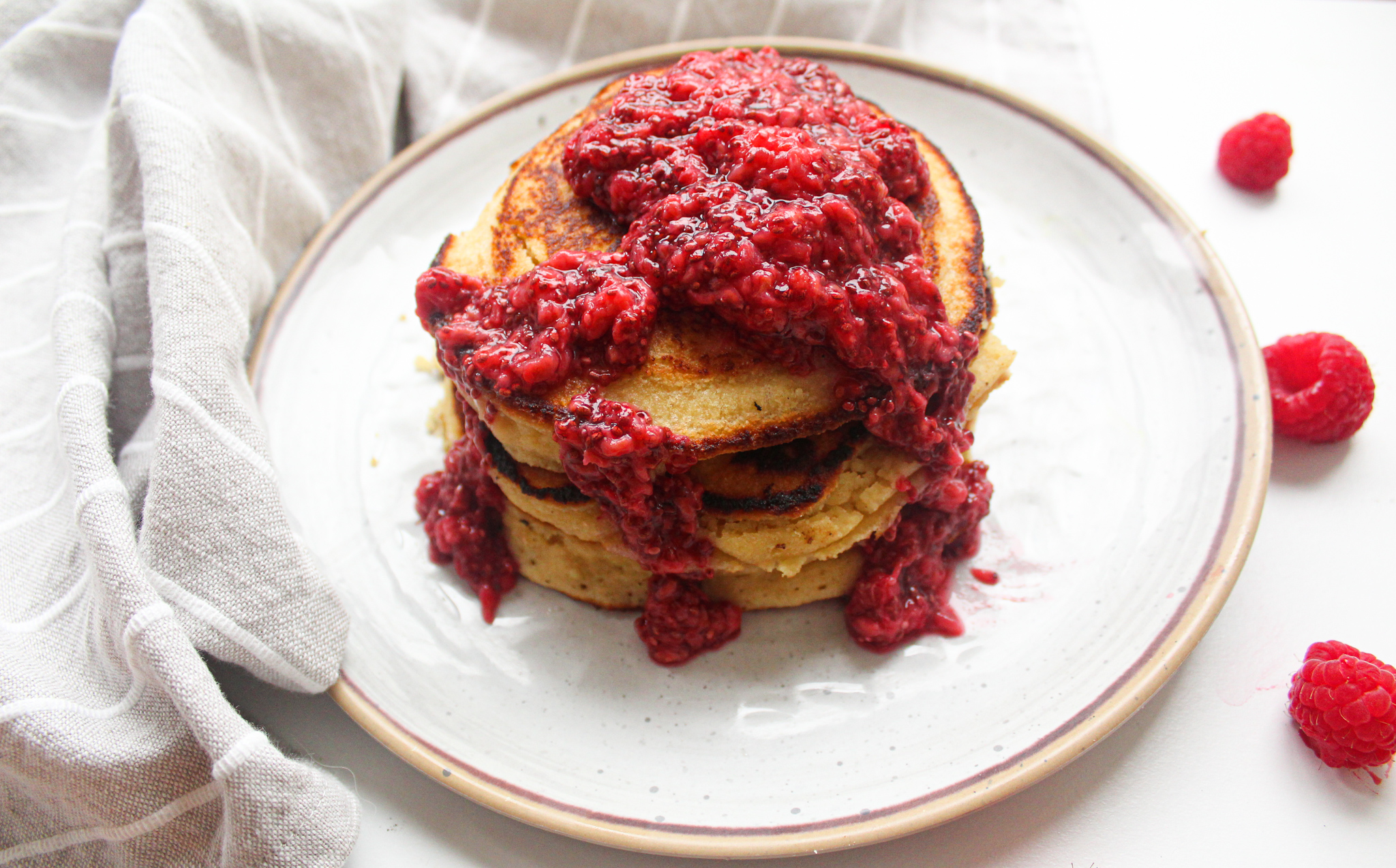 Almond Flour Pancakes with Raspberry Chia Compote
Pancake lovers rejoice! Enjoy this delicious, mouth-watering recipe with someone you love. With a perfect combination of macronutrients and antioxidants you will wonder how pancakes can be so healthy!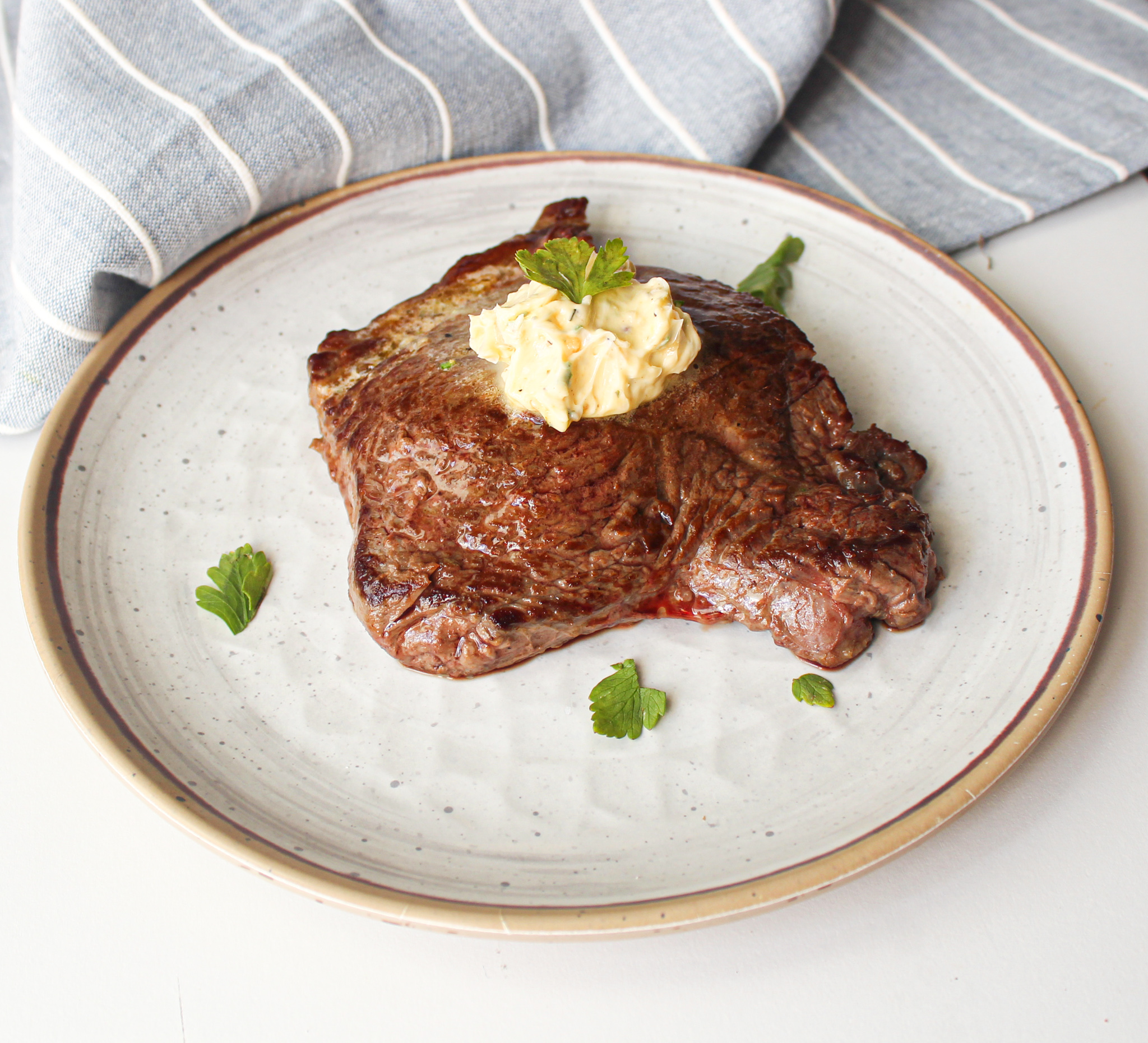 Garlic & Herb Grassfed Steak
A very flavorful, nutrient-rich combination! We recommend pairing your garlic & herb steak with our sauteed pesto broccolini or bacon bit Brussels sprouts. This is a very filling recipe so be prepared to save your leftovers for steak and eggs tomorrow morning! Who knew eating healthy could taste so good? 
DON'T TAKE MY WORD FOR IT
Take Asher's word! After going through The Ultimate Wellness Academy™, he started seeing health differently. His energy levels sky-rocketed, he burned fat, and sculpted a nice amount of muscle mass. But most importantly, he learned the tips he can apply to create health the rest of his life. Watch the video below to hear how The Ultimate Wellness Academy™ started Asher on his journey.
"
CRAIG'S PROGRAM OPENED MY EYES AND SAVED MY LIFE."
Erica R.
"Craig's program has drastically improved my health, wellness and fitness journey! It was the catalyst for ending a THREE DECADE LONG bout of disordered eating and orthorexia. Craig's program opened my eyes and saved my life. It changed my relationship with food and exercise. For the first time ever I am eating to live, and moving because I am blessed and able. My mind is thriving! I feel incredibly strong, determined, focused, disciplined and confident. Every other program is geared at teaching you how to "lose" weight and what to restrict whereas Craig's program teaches you how to "gain" life and get fit, all while building or rebuilding your mitochondria and immune system. You will literally transform from the inside out! I promise this will be the last program you ever try.
Craig is so passionate, encouraging, knowledgeable and inspirational. He will guide you each step of the way and, in turn, you will transform and blossom into the most beautiful version of you!"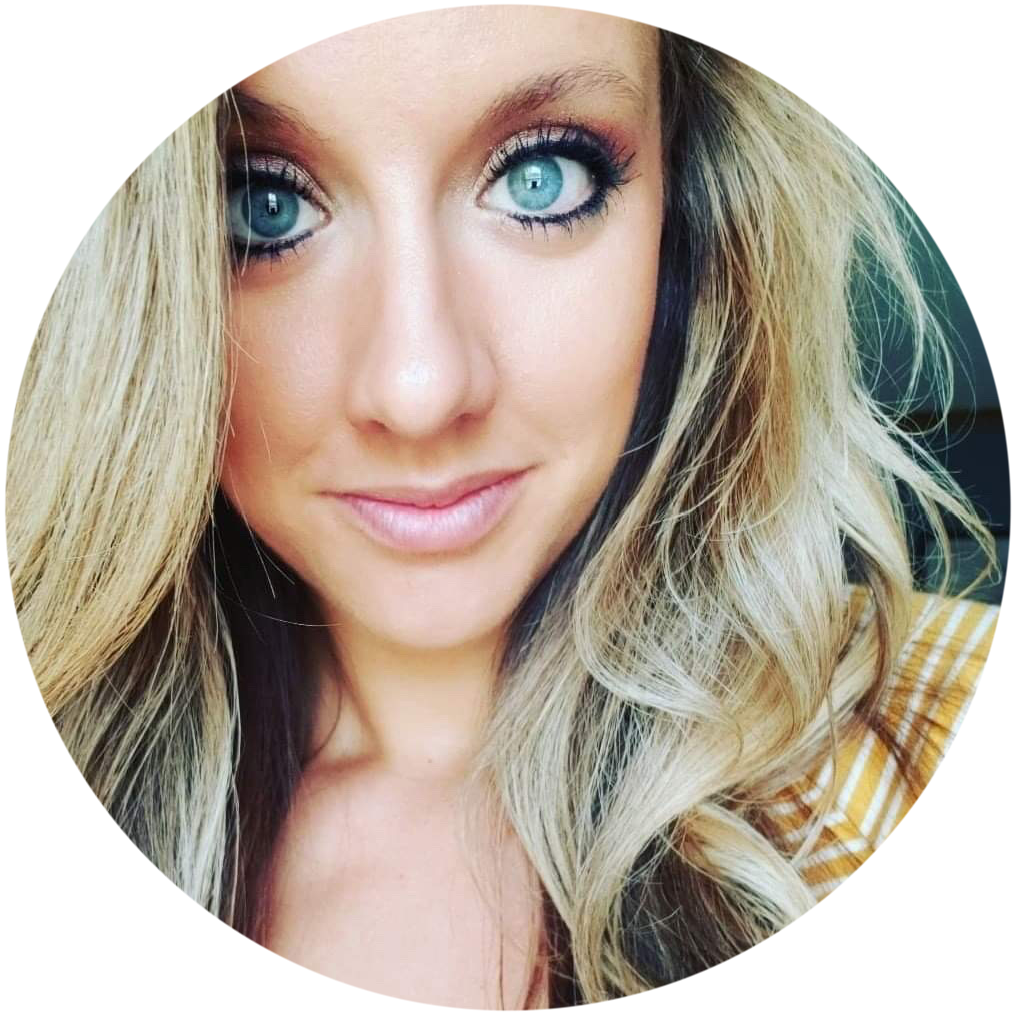 Nicki H.
"If you're looking for someone who is willing to listen and really understand what you are struggling with, Craig is your man.  He is not only an exceptional health coach with vast knowledge on many topics, but an exceptional human, too.  He puts all his energy into making sure that you are supported in the best way possible so that you can overcome whatever it is you are struggling with.  Craig's approach to whole body health is different, in the best way possible, so that you actually get the results you deserve."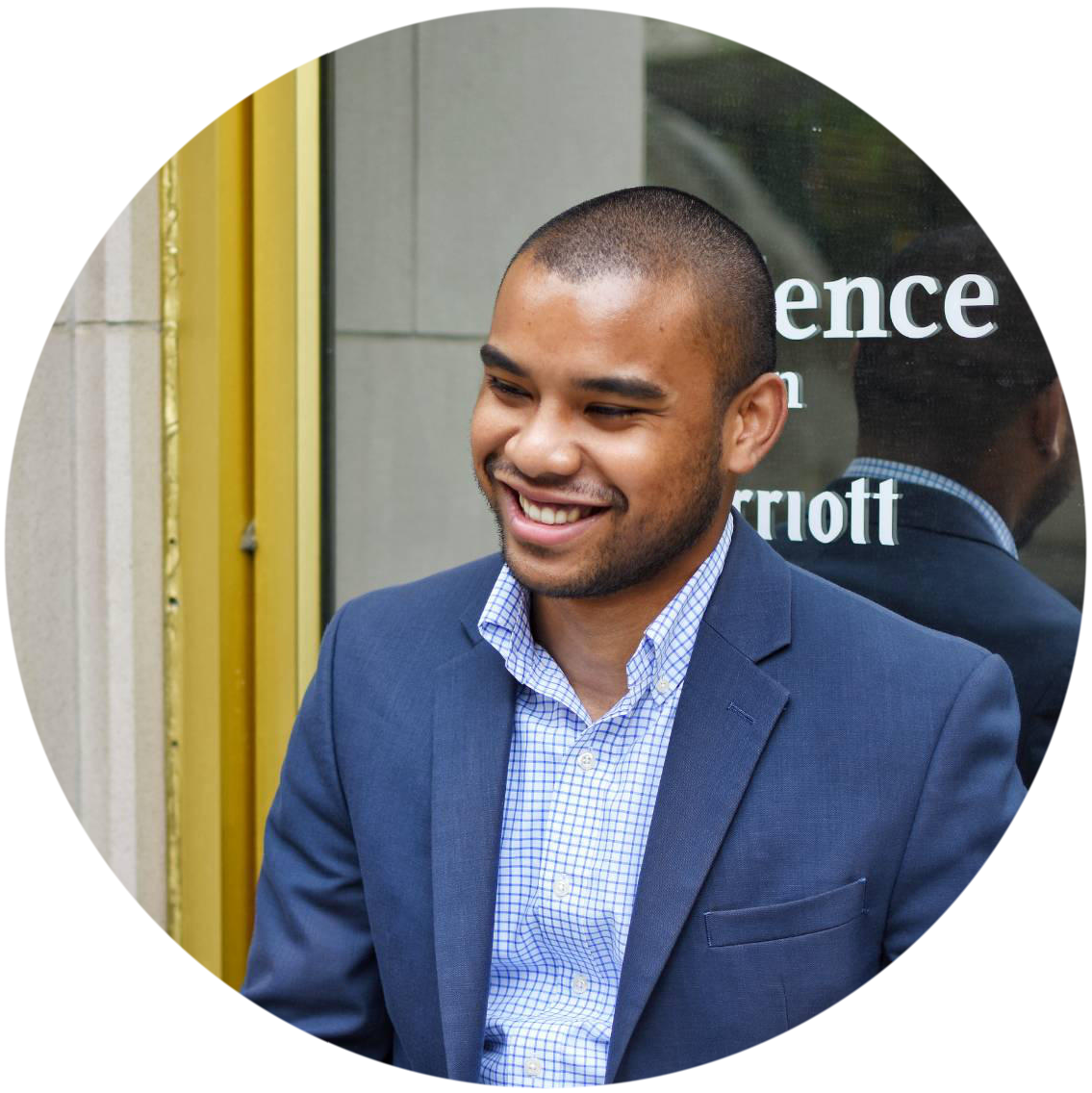 Asher C.
"Coach Craig is the real deal! He takes a holistic approach in health and wellness and is so precise in what he does for you. His passion for nutrition is incredible and it shows in his guidebooks conversations. My favorite part is his 60 day workout plans. There is something for everyone and you see results right away. The workouts are challenging yet rewarding and they make you want to push harder every week. I've lost 15 pounds in the first 3 weeks through the exercises as well as having a mindful diet. More importantly, Craig's program guides you to align yourself with your long-term health goals and the reasons that will pull you through accomplishing those goals. If a guy with open-heart surgery can do this program, anyone can. Just have faith and trust in Coach Craig!"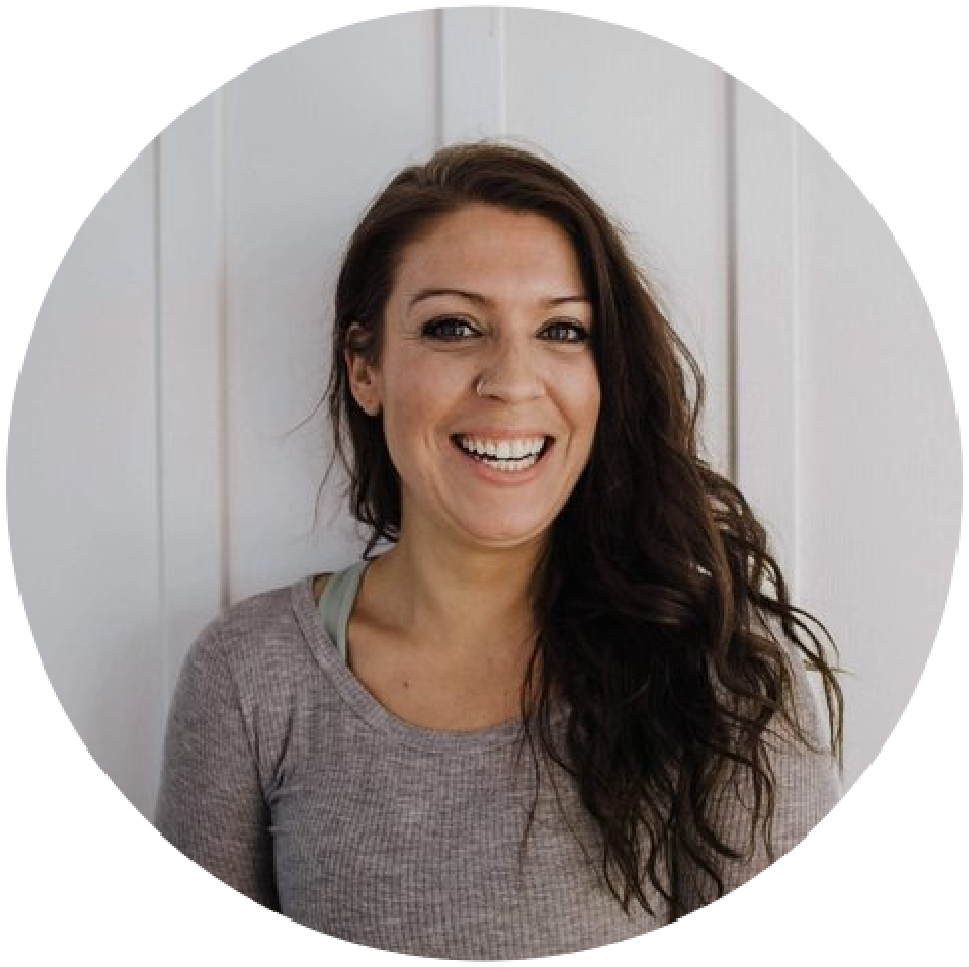 Brogan M.
"Craig is amazing! He is a down to earth, genuine guy who really cares about what he is doing to help others be their best selves. Craig knows what he is talking about when it comes to health and fitness and always has an open mind when it comes to new research. I am blessed to have him as a friend. He is always uplifting, supportive and there when I need him, even if it is just to hold me accountable."
LISTEN TO STEVE'S STORY
"If you get the chance to take the 60 day challenge, I would tell you to drop everything that you're doing and sign up immediately."
You'll be able to access your program whether you're at home, at the gym, or even while traveling. We put in countless hours, not only to make this happen, but to make this program a visually stunning experience and incredibly easy to use. The Ultimate Wellness Academy™ uses an innovative responsive design to give you super accessibility at any time and on any device you want to use.
As soon as you enroll you will have immediate access to DOWNLOAD THE FREE APP and begin the program immediately.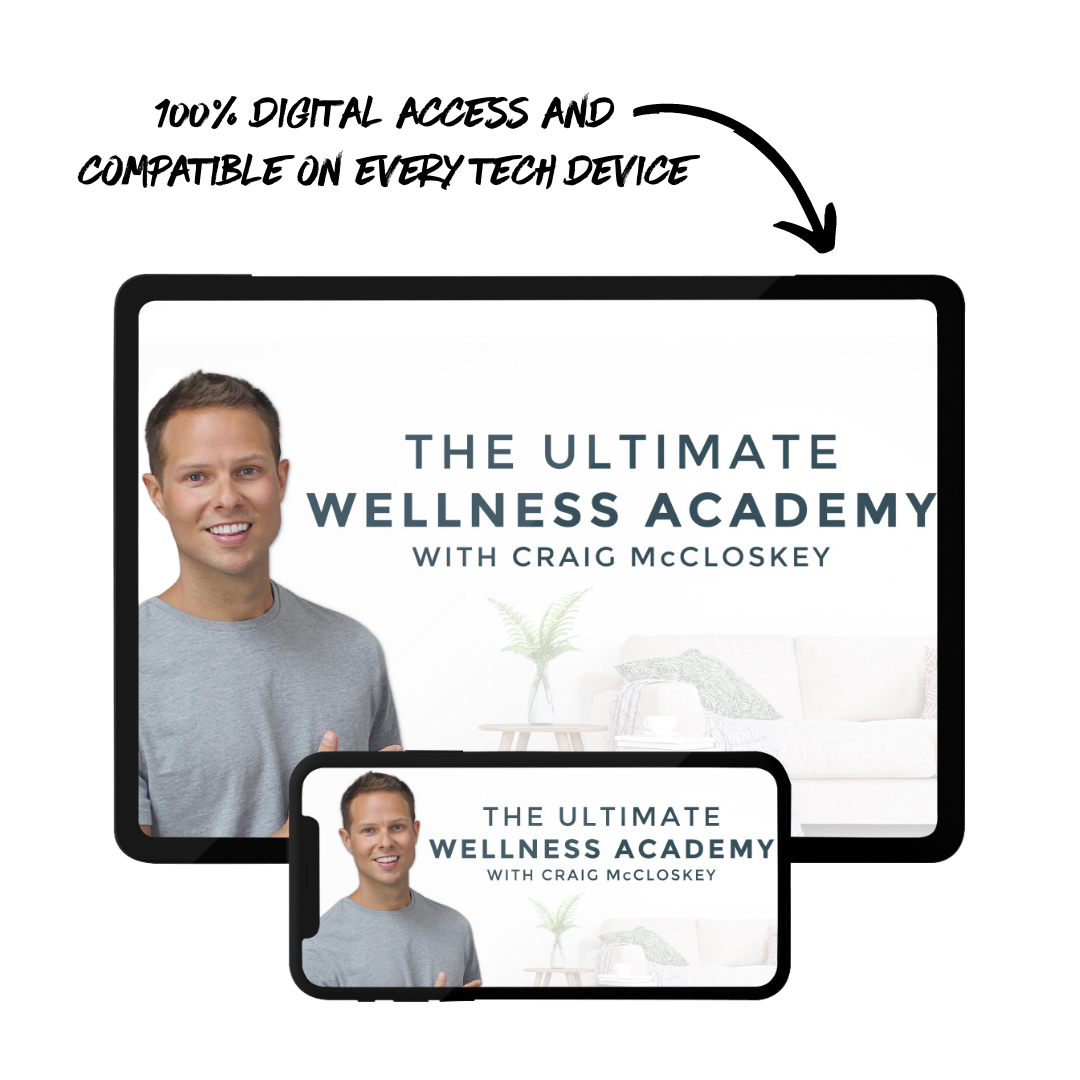 ENTER THE ULTIMATE WELLNESS ACADEMY™
SPOTS ARE LIMITED - APPLY FOR YOUR SPOT TODAY!
My Honest Disclaimer:
Hi. Craig here. I want to make sure you understand this program is not a replacement for medical advice given to your by your practitioner. Your results may vary significantly.
We do not diagnose, treat, heal, cure or prevent any illness, medical condition or mental or emotional condition and nothing on our website, its content or in our paid services is intended to diagnose, treat, heal, cure or prevent any illness, medical condition or mental condition. Craig McCloskey and all team members of McCloskey Wellness provide only mind and body transformation information and education. 
Our services are not medical or mental health advice. Craig McCloskey is a mind/body coach not a mental health or healthcare medical doctor. Nothing on our website, in our content or in our paid services should be construed as healthcare or mental health advice or as a substitute for a consultation with a healthcare or mental health professional who can review and advise you on your specific situation. 
Anyone choosing to implement any information on our website or in our paid services should obtain prior medical clearance from a licensed professional or family doctor to declare them sufficiently healthy, and determine that the information on our website or in our services is appropriate and useful for them. Do not disregard professional medical advice or delay seeking professional advice because of information you have read on our website, or received from us. Coaching is in no way to be construed as a replacement for therapy or medical advice.
© 2021 McCloskey Wellness